How to Decorate Your Rented Property on a Budget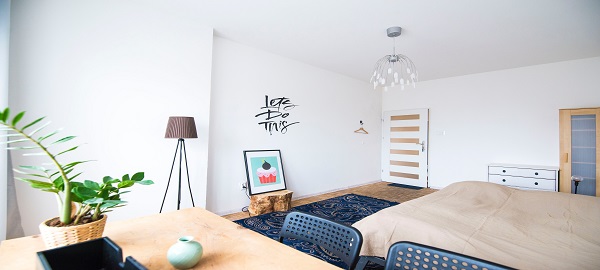 When you're renting a property, decorating on a tight budget in a must. For one, many renters may be saving for a deposit or something else, such as a car or holiday. Plus, you don't want to waste a lot of money on a property's décor only to find out your landlord is selling your home and you'll need to find somewhere else. Meaning you'll need to start again!
So, if you are planning on decorating your rented property to feel more like a home, it's clever to keep to a tight budget. Which is why we've put together some top tips on how to decorate on a shoestring:
1: Do Any Work Yourself
If your landlord has given you the go-ahead to change aspects of your new home – such as your walls or flooring – you'll find that labour costs for painting and decorating can be extremely high. Instead, you can save hundreds of pounds by choosing to take on some of these decorating tasks yourself. Even better, thanks to the internet and YouTube, there's an online tutorial for practically everything. So, it doesn't matter if you've never wallpapered before, as the internet will be able to teach you all the tips and tricks.
2: Try Your Hand at Upcycling
New furniture can make a vast difference to how your home looks. Unfortunately, though, a set of matching furniture can set you back thousands of pounds, which isn't great if you're trying to stick to a budget. Instead, head to car boot sales and charity shops to look for second-hand furniture that you can upcycle.
Upcycling basically means that you take an old piece of furniture and make it more desirable, usually by painting it or upholstering it and adding new handles. Not only does upcycling give you a brand-new looking piece of furniture for a fraction of the price, you can even turn it into a hobby to made some money from.
3: Get Accessories and Furnishings Second-Hand
Adding accessories, such as cushions, throws and curtains, to a room is a wonderful way to add colour and make that room feel more homely. However, if you're looking for high quality, these accessories often come with a large price tag. Which is why you should always look to buy second-hand first.
Places like Gumtree and eBay are great places to find designer goods at the fraction of their original price. The same goes for charity shops or even discount stores like TK Maxx. It might take more time to shop, but the money you save will be worth the effort. Plus, if you move to a different rental, you can take all your bargains with you.
4: Paint Can Transform a Room
If you have permission from your landlord to paint your walls, this can be a quick and cheap way to totally transform your rented home. Here, look to paint most of your walls in a white or cream tone, as here you can buy a bulk order, which will save you money overall (especially if you paint the walls yourself). Then choose a feature wall and paint this in a bold and vibrant colour. Not only is this cheaper and easier than wallpaper, but it can also help make your rented home feel like a home.