How to Make a Rental House Your Home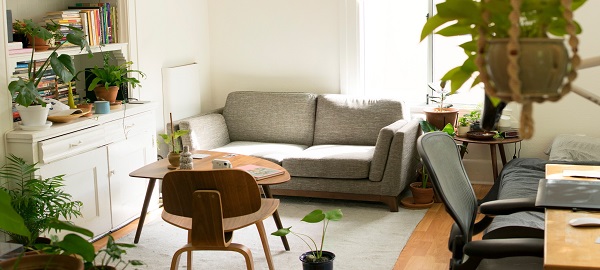 These days, renting a home is just as common as having a mortgage. The only problem is, many renters can feel unsettled in their rental houses as they don't feel like a home to them. Which is why it's so important that you add your own touch to any rental you stay in, as this will make your home feel more like your own property where you can create wonderful family memories.
So, how can you add some homely touches to your rental? Well, here are five top tips to help you improve your living space:
1: Add Wallpaper and Splashes of Colour
Most rental properties are decorated in very neutral tones, as these are both clean and suit most tastes. However, these stark walls can feel clinical rather than homely. So, to add your mark to your rental, simple splashes of colour or wallpaper can make a real difference.
Here choose one wall and make it a feature, either by painting it or wallpapering it in a bold colour. If your landlord doesn't want permanent changes, you can get removable wallpaper that can be peeled off without damage to the original wall colourings. Or, you could add art prints or family photographs on your walls, which can be very effective for making you feel at home.
2: Invest in Accessories
Accessories – such as cushions, throws and ornaments – are wonderful for a rental. As these accessories can be taken away at the end of your tenancy with no permanent changes to the property. So, to make your rooms homely, add lots of trinkets and soft furnishings that you adore.
Accessories also give you a wonderful opportunity to add colour to a room, which is especially important if you can't change the properties walls or flooring. So, add bright cushions to your sofas, rugs to flooring and fun, vibrant ornaments around your home.
3: Change the Lighting
You might not realise it, but a hanging lampshade can make a big difference to a room. Especially if it's dated or clashes with your colour scheme. Luckily, light shades can be easily changed, meaning you can add your own, while storing the original lampshades for when your tenancy ends.
Adding lamps to a room is another way to make your rental feel more like home. Here choose lamps that fit your personal style and room colourings. Plus, using lamps – rather than your main overhead lighting – can add a softer light to your rooms, which makes them feel cosier.
4: Add Freestanding Furniture
While your rental will usually come with its own basic furnishings, you can make it far more homely by adding a few freestanding pieces of furniture that suit your style more. In particular, armchairs, bed headboards and side tables can work very well and won't take up too much space. Even better, you can take them with you when you leave!
5: Invest in Plants
Particularly for those living in a flat or apartment without a garden, by buying some houseplants for your home, you can really cheer up a room. Not only will plants add colour to any room, but plants make a home look more lived in, which helps counteract a rental that can feel more clinical than a home.
Keep in mind, before you follow any of these tips above, it's important that you check with your landlord or letting agency first. As you may require permission to make cosmetic changes to your rental.